What We Found in the Sofa and How It Saved the World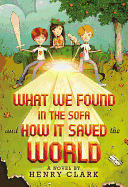 The comical far-out adventures begin for narrator River, his friend Freak and their bus mate Fiona when they discover a sofa just down the road from the bus stop.

First-time author Henry Clark sets the surreal tone from the outset: "The sofa wasn't there on Monday but it was there on Tuesday." When the trio examines its contents, they discover, among other things, a dark green crayon labeled "zucchini." Fiona, the most enterprising of the three, discovers that the zucchini crayon could be valuable (only 500 were made for a special World War II limited edition called "Victory Garden"). As bids on eBay grow into the thousands of dollars, River becomes uneasy: "Technically, the crayon isn't ours to sell," he says. Their attempts to track down the crayon's owner leads to a mad scientist–type named Alf and the discovery that the sofa is sentient. Alf suggests that the thing has links to the nearby Hellsboro fires that have been burning for 12 years, and that the frequent singing flash mobs are actually mind-control experiments. That's just the beginning.
In a tale that's part detective story and part environmental tale with sci-fi overlays, Alf enlists the young protagonists to thwart a plot by an evil dictator to take over the Earth. Clark's Mad magazine background makes this hybrid between moral dilemmas and absurd plot twists mesh in unexpected and original ways. --Jennifer M. Brown, children's editor, Shelf Awareness